Mount Calvary Lutheran Church
News and Notes
February 2nd and February 3rd, 2020

"WE ARE MT. CALVARY"—
            Family of the Week – Larry and Maurita (Jo) Laube
             Coming up Next Week – Laurence (Larry) and Linda Kitzman
Thank you to all those who have already dropped off your "We are Mount Calvary Questionnaires". We truly appreciate it. For your convenience, there is now a mailbox next to the Guest Book in the Narthex for drop off.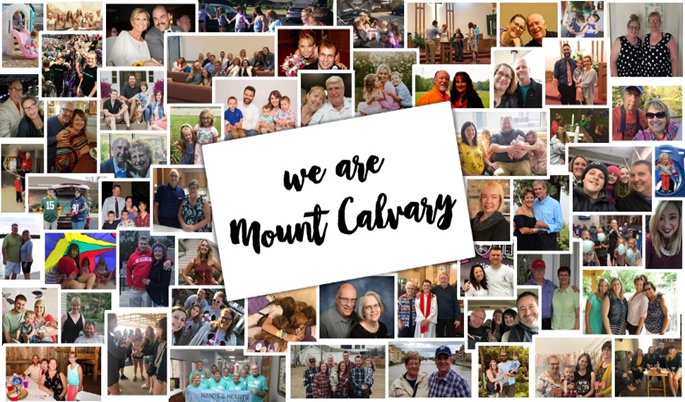 LOOKING AHEAD—MARK YOUR CALENDARS!
Family Movie Night — Lady & the Tramp" Saturday, Feb.8th at 5:30 pm
Pastor's Circuit Meeting Tuesday, Feb. 11th 12:00 pm -3:30 pm
Elder's Meeting Tuesday, Feb. 11th at 5:30 pm
Church Council Meeting Tuesday, Feb. 11th at 7:00 pm
Spring Primary Election Tuesday, Feb. 18th 7:00 am – 8:00 pm
Family Movie Night — Dumbo Saturday, Mar. 14th at 5:30 pm
Easter Egg Hunt Saturday, Apr. 11th at 10:00 am
GIFTS Men's Homeless Shelter Week Sunday, Apr. 19th – Apr. 26th
Mom & Me Brunch Saturday, May 9th at 10:00 am
*Spring Break—March 23rd – March 27th
TODAY'S ALTAR FLOWERS—have been given to the glory of God in honor of their wedding anniversaries this month: Gordan & Sandy Christensen, Dean & Sue Buchholz, and Dave & Heather Babcock.
CHANCEL GUILD MEMBERS—There will be a meeting today Sunday, February 2nd following our 9:15 am Worship Service. We will be going over the new schedule for 2020, procedures and answer any questions you might have. If you currently serve or would like to service, please plan on attending. If you can't attend and would still like to serve, just let me know. Wanda Geske, Chancel Guild Chair.
ECHO NEWS—Mt. Calvary has had two successful food drives for ECHO. The first was the Packer Project. Along with the 246 pounds of food donated, we also collected $250 which was used to purchase 408 cans of soup at Woodman's. When we delivered the food donations and the soup to ECHO, they were so very happy and appreciative. We just finished up our second project, SOUP-er Bowl, which was very successful. Mt. Calvary also received $250 through the Thrivent Action Team program and that money will be used to purchase additional soup. The soup shelves at ECHO will be stocked for a while. Thank you everyone for all your support and generosity. Eva Jean Rethwisch
Men's Bible STUDY—Our Men's Bible Study group meets every Thursday at 7:00 pm and is open to all men, young and old. Come join us as we grow in fellowship and leadership as men of this congregation.
Women's BIBLE STUDY—Our Women's Bible Study group meets every Wednesday at 7:00 pm. All ladies are welcome to join us as we walk through the messy lives of the Corinthians and see how the truth of the Gospel and the Spirit of God can empower us to put Jesus first in our lives today.
FAMILY MOVIE NIGHT—Saturday, February 8th at 5:30 pm. Please join us for dinner and a movie, featuring "Lady & the Tramp". This is going to be a fun night!! All ages are welcomed!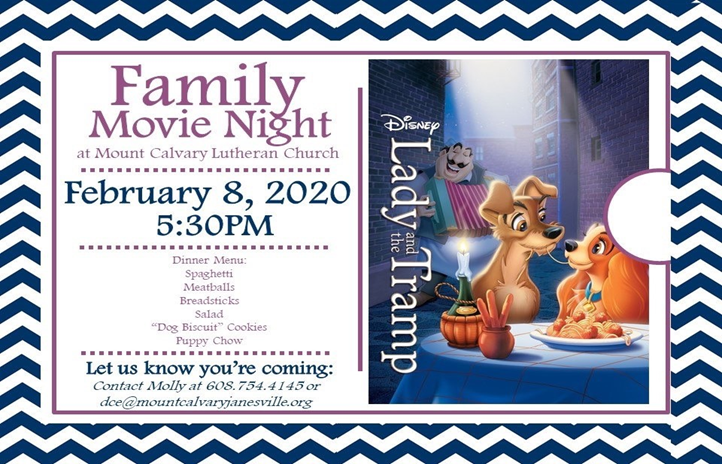 SIMPLY GIVING—provides a convenient way to make financial contributions to our church on a weekly, monthly or yearly basis. You can sign up to have your offering to our Lord drawn automatically from an account you designate. It's easy, it saves time, and it's a consistent way to give. If you are interested, there are forms in the Fellowship Hall to fill out or contact Dawn Enerson for additional information and/or help.
A TRIP TO THE HOLY LAND—Molly and the Marcis family, invite you to join them on a trip to the Holy Land. Please consider being a part of this adventure in faith and experience this once in a lifetime journey as we walk where Jesus walked! Dates for this trip are June 2-11, 2020. "There is no deadline to register, however if you register after February 18, 2020, you will incur some additional fees". For more information, please contact Molly.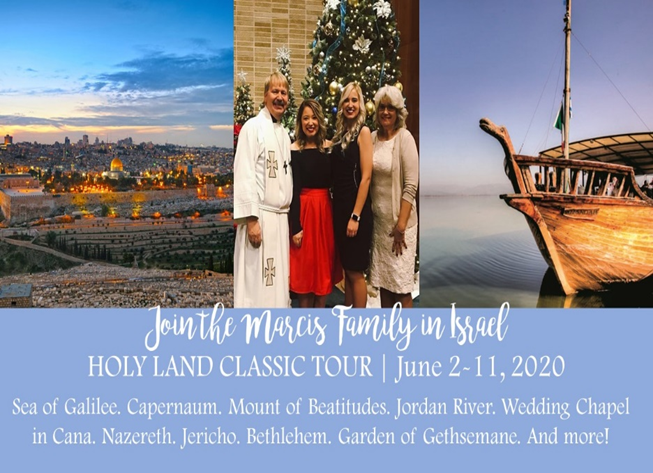 "2020" OFFERING ENVELOPES—If you have not already picked up your 2020 envelopes, please check your mailbox. Please begin using the 2020 envelopes now and throw out any remaining 2019 envelopes. Numbers may have changed for some people for 2020. Please double check your address on the envelope box & if incorrect please notify Dawn in the church office of your correct address. Thank you!
Shop with SCRIP TODaY—Script has more than 700 retailers available to you.  The more you shop with scrip cards purchased here at Mt. Calvary, the more our earnings grow to fund theChristian Education Ministry.  Scrip cards are available for purchase before service or contact Mary Oren.
*a note from the secretary's desk*
MAILBOXES—I will be doing some maintenance on our mailboxes over the next couple of weeks.  In doing so, you may see your specific mailbox moved to a new area.  I will continue to update as needed.  If you see anything that needs to be changed or I inadvertently missed you, please do not hesitate to let me know.  Please remember to check your mailboxes weekly for any important correspondence.  Any correspondence for the Church Council members or the Board of Elders will also be found in your mailbox.
NAME TAGS—If you don't have a name tag or you have lost yours, please let me know and I will get one ordered for you.  "New members" should be receiving yours in the next few weeks and you will find them in your new mailbox.
LOST AND FOUND—There are several items in our lost & found basket next to the mailboxes that are looking for their home.  Please stop by and see if you are missing anything.
KEEPING IN TOUCH—If you plan to be away from church for a short period of time, (snowbirds, vacations, hospital stays, etc.) and would like to receive the weekly Bulletins and/or News & Notes, just let me know.  I would be more than happy to email or mail them to you.
YEAR END STATEMENTS ARE NOW AVAILABLE—Please check your mailbox.  If you do not have a mailbox, they were mailed out to you.  If you have any questions, please contact me.
"Please let me know how else I might serve you." 😊 Thank you!  Dawn
Serving Us Today – Feb. 2nd
Pastor………………………………..…………………………..…….………..Pastor Bergelin
Elder on Duty………………………………………………….…….…….……Brian Helmeid
Organist……………………………………………………………………….…Joanne Bosben
Acolytes…………………………………….…………………………….………Gabe Hansen
Altar Guild…………………………………………………………………..……Wanda Geske
Usher-Team#1………………………………..Ken Holmes, Fran Strickert, Dave Wittig, Ron Seeman
.
Serving Us Next Week – Feb. 9th
Pastor…………………………………………..……………..……….…..…….Pastor Bergelin
Elder on Duty……..………………………………………………………..………Brian Helmeid
Organist…………………………………………..…………………………………Joanne Bosben
Acolyte…………………………………..………………………………….……Sophia Meyer
Altar Guild…………………………………….…………………………………Wanda Geske
Usher-Team#2…………………………Ken Holmes, Fran Strickert, Dave Wittig, Ron Seeman
Today, February 2
9:15 am………………………………Worship Service with Holy Communion
10:30 am………………………………………Adult Bible Study & Sunday School
6:00 pm – 8:00 pm………………..…………………………Youth Night
Monday, February 3
6:30 pm………………………………..Worship Service with Holy Communion
Tuesday, February 4
Wednesday, February 5
7:00 am……………………………..…………………Waffle Wednesday
3:30 pm…………………………..……….……..Re-Ignite HS & Jr. High
6:00 pm…………………………………….………….Confirmation Class
7:00 pm…………………………………………….Women's Bible Study
Thursday, February 6
7:00 pm………………………………………………….Men's Bible Study
Friday, February 7
Office Closed
Saturday, February 8
Office Closed
Next Sunday, February 9
           9:15 am……………….……….………………….……Worship Service
10:30 am………….………..…….…Adult Bible Study & Sunday School
6:00 pm – 8:00 pm……….…….…………..……………….Youth Night